Conveniently located to serve the areas of Miami and South Florida
Age has a tremendous effect on our skin, but with injectable fillers, we can slow time's impact on our appearance.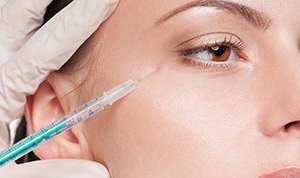 You will naturally experience wrinkles, deep lines and a loss in facial volume, which can add premature signs of aging to your face. Injectable fillers are convenient and versatile anti-aging treatments, coming in a wide variety of formulations.
At Rotemberg Plastic Surgery, we offer our patients a myriad of injectable filler options to suit their diverse needs and achieve a refreshed, youthful, and vibrant look.
Injectable Fillers for Anti-Aging
Injectable fillers are composed of gel-like substances. These substances are injected into the skin using fine, medical-grade needles and will "fill-in" the concerning area to reverse aging signs. Fillers are used to contour and plump facial features such as the lips and cheeks. Common areas that fillers are used to treat are facial wrinkles and lines, scarring, the back of the hand, cheeks, midfacial region and lips.
Dr. Silvia Rotemberg will help choose the right filler for you.
Juvederm
Juvederm® is a common injectable and is composed of a hyaluronic acid base. Hyaluronic acid is present in the connective tissues of our bodies. Most patients do not need to take an allergy test before receiving the treatment because hyaluronic acid is a natural substance. Juvederm is frequently used to fill in sunken cheeks, scars, pockmarks, deep lines, and wrinkles. It is an excellent anti-aging solution to your concerns. Juvederm is a non-surgical procedure that is usually repeated once to twice a year. We offer a variety of Juvederm:
Juvederm XC
This filler is best for moderate lines and wrinkles on the face.
Juvederm Ultra XC
Looking for fuller, sensual lips? This unique filler will add a subtle improvement in the volume and texture of your lips.
Juvederm Voluma XC
Correct volume loss in your cheeks with Voluma. This filler is excellent for those whose skin has lost volume due to age. It will work on deep creases and loss of volume in the skin.
Juvederm Volbella XC
If you are looking to improve the contour of your lips and reduce vertical lip lines that cause your skin to look aged, Juvederm Volbella XC will provide those results!
Juvederm Vollure XC
Wrinkles detract from our natural beauty and can make us feel older than we are. Juvederm Vollure XC will soften severe lines and wrinkles on your face.
Sculptra
The active ingrediant in Sculptra will rebuild collagen and stimulate new collagen production to provide long-lasting, impressive results.
Sculptra® or Sculptra Aesthetic® is a collagen stimulating dermal injection that treats deep and shallow wrinkles for firmer, smoother skin. Ideal for treating smile lines, marionette lines, and chin wrinkles, Sculptra is FDA-Approved and proven to naturally restore lost collagen. Sculptra is also shown in clinical testing to last longer than nearly all other dermal injections with results lasting as long as two years after a treatment course!
The active ingredient, Poly-L-lactic acid helps rebuild collagen and stimulate fresh collagen production in your skin which is an essential part of youthful, perky skin.
Radiesse
Radiesse® is a Calcium Hydroxyapatite filler. It is synthetic, sterile, latex-free, non-flammable and a semi-solid filler. Calcium Hydroxylapatite is a biocompatible material found in the body and used in the medical field for more than 20 years. It has been tested and tweaked to provide patients with a safe filler solution to their needs. It is inserted through syringes and fine medical grade needles. The injections are applied to the predetermined areas to yield smoother skin.
Radiesse is an excellent alternative to facial implant surgery. Radiesse is quickly administered and requires no downtime!
Radiesse is applied to lines and furrows around the nose and mouth. Radiesse contains small particles that will stimulate collagen growth and strengthen your skin tissue. Radiesse is hypoallergenic and made up of materials that are naturally found in the body. Radiesse is one of the best choices for the dorsum of the hand filler. Treatments last for up to a year and, because of the increase in collagen, will require less frequent touch-ups. Radiesse is commonly applied to patients between the ages of thirty-five and sixty who experience loose skin. Radiesse can also be used as an alternative to facial implant surgery and can improve the volume of the cheeks and correct the nose.
Restylane
Restylane® is also a hyaluronic-based filler. It is clear, non-animal based and biodegradable. Restylane is often a safe option for people with allergies or who are sensitive to certain foods. We offer many different types of Restylane fillers.
Restylane Lyft
It's not just your face that loses volume with age. Your hands tend to lose fat and tissue volume over time, resulting in boney hands that may bruise easier and take a while to heal. Restylane Lyft will help restore lost volume in your hands. Lyft is FDA-approved for both your face and your hands!
Restylane Defyne
Are you looking for a solution to deep laugh lines? Restylane Defyne is a hyaluronic acid-based filler that will smooth out severe nasolabial folds and marionette lines. This treatment returns your youthful, natural appearance.
Restylane Refyne
Similarly to Restylane Defyne, Restylane Refyne is perfect for moderate laugh lines. With this filler, you won't have to worry about your laugh causing wrinkles!
Restylane Silk
If you are looking for silky smooth lips, Restylane Silk is your solution! This FDA-approved filler has been created specifically to augment the lips and smooth wrinkles surrounding the mouth. The result will be a youthful smile and plump lips!
Restylane fillers attract particles of water, providing smooth, hydrated effects even after the filler diminishes. The gel comes in a pre-measured syringe, allowing the treatment to be more comfortable and quicker. Restylane is minimally injected and requires no downtime.
Benefits
There is a wide range of different types of injectable fillers that will act to improve the quality of your skin by smoothing out wrinkles, lines and enhancing the shape of your face.
People often receive injectable fillers because of their convenience. Fillers are easily and quickly applied using syringes.
No incisions or invasive technique is used to enhance your appearance, so no downtime is necessary. Patients often return to work and their routine after they receive the injections. The natural fillers will interact in a healthy, safe way with your body. If you are interested in this fast, non-surgical solution, contact our office today to learn more!
Candidates
An ideal candidate will have loose skin, scars, pockmarks or shallow facial areas. These treatments can quickly correct and improve your natural features. Men and women over the age of 18 (and for some formulations over 21) who are in good overall health are ideal candidates for injectable filler treatments.
Dr. Silvia Rotemberg, Top Miami Wrinkle Treatment Specialist
Dr. Silvia Rotemberg and you will create a personalized treatment plan that addresses your unique concerns and achieves your desired effect.
In your private consultation, Dr. Silvia Rotemberg will discuss the procedure details with you, potential risks and the expected outcome. The areas that concern you will also be examined in order to recommend an appropriate filler.
She will inquire about your general health, past procedures, allergies, and current medication regimen. Although injectable fillers are a minimally-invasive procedure, we provide options for our patients who are sensitive to discomfort.
Topical Anesthesia
Topical anesthesia is the most common form of anesthesia used in filler procedures. The specific anesthesia used is called Lidocaine and is applied as a gel to the predetermined area of about ten to twenty minutes before the filler injections.
Local Anesthesia
This technique uses a very thin needle to apply a numbing agent within the skin, effectively numbing the treatment area.
Nerve Block
This anesthesia is administered with a small, thin needle deep within the skin. The anesthesia is applied to a nerve and reduces sensations, effectively numbing the treatment area. This form of anesthesia is often for pain-free lip augmentation.
At Rotemberg Plastic Surgery we want our patients to have comfortable, positive experiences. Together, we create a treatment plan that is customized to your desires, comfort levels and goals.
Procedure
An Injectable filler procedure is efficient and speedy. When you arrive for your appointment, your skin will be cleaned and prepped.
Injectable filler treatments are conveniently performed in our state-of-the-art office.
A topical anesthetic will be administered to help diminish any discomfort. After the anesthetic has taken effect, Dr. Silvia Rotemberg will apply the filler in strategic areas. She may massage the filler to help her make any necessary adjustments and to help the filler distribute evenly. This process may take five to twenty minutes. The treatment is performed in-office, and most patients return to work immediately after.
Recovery
Injectables are a simple, minimally-invasive procedure that does not require a lot of recovery time. Patients may find that they have minor swelling or bruising at the injection sites. Ice packs can be used to help bring down any swelling. Avoiding alcohol and Aspirin for the first week will also help in bringing down swelling. Any bruising should diminish within ten days.
Patients are able to return to normal activities after a few hours but should rest their facial muscles for up to forty-eight hours after the treatment.
Results
Your results will be immediately noticeable. Injectable fillers will need to be maintained. Depending on the type of filler and where it is administered, two or three appointments a year may be necessary to ensure consistency. Dr. Silvia Rotemberg will discuss maintenance appointments with you during your consultation.
Complementary Procedures
Injectable fillers are a great treatment to combine with Botox.
Many of our patients choose to combine their injectable filler treatment with another procedure such as Botox® injections. Botox injections are minimally-invasive and will temporarily paralyze muscle movement. Patients who have deep facial lines that make them appear angry, tired or worried often choose Botox injections.
Cost of Miami Injectable Fillers
At Rotemberg Plastic Surgery we offer personalized treatment plans that are based on your goals and unique features. Prices differ based on our customizable approach. If you are interested in learning about injectable fillers and how they can improve your natural beauty, contact our offices and plan your consultation today at (305) 539-7083!