Conveniently located to serve the areas of Miami and South Florida
What Is Facial Rejuvenation?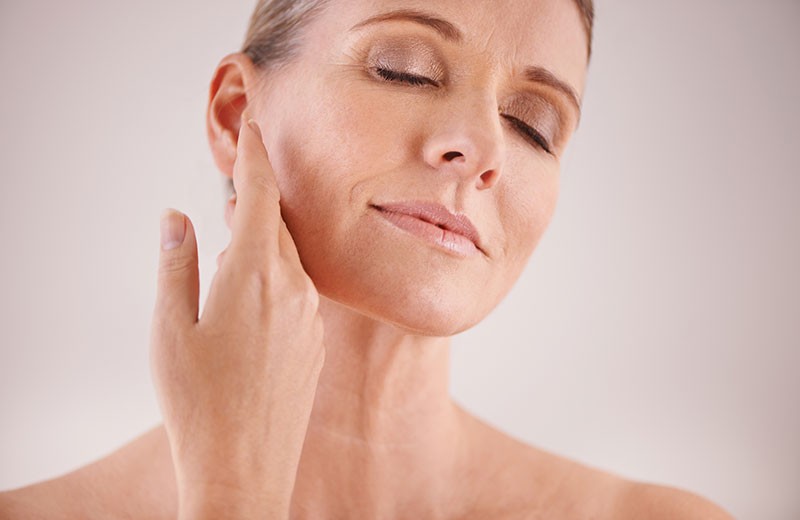 Facial rejuvenation is any procedure that addresses facial cosmetics and aesthetics. It is a three-dimensional process involving muscle control, volume restoration, recontouring, and a thorough knowledge of anatomical properties and cosmetic techniques.[1] For optimal facial rejuvenation, the accepted surgical procedures of skin lifting and tightening could be combined with volumizing, thereby addressing ptosis, lines, folds, and volume loss.[2] There are various treatments ranging from invasive to non-invasive at Rotemberg Plastic Surgery: where our office transports you to a space that's more elegant spa than a medical center.
Keep reading to learn more about potential options you'd like to explore with Dr. Silvia Rotemberg.
Click here to arrange a consultation, or call us now at (305) 539-7083, and one of our friendly staff members will set you up shortly. Our offices are conveniently located to serve the areas of Miami and South Florida. We are open for all surgical and non-surgical inquiries.
About Facial Rejuvenation
Our faces instinctually dictate our lives if you think about it: attractive people have alluring faces. Our faces communicate how much sleep we've had. We try to estimate people's age through their faces more than we care to admit. The way we express our emotions affects the way our faces look. And much, much more. The point is that our faces are essential and susceptible to a lot of outside forces, so it's good to be informed about what resources are available so that they can all shine brightly.
Facial rejuvenation will undoubtedly improve your quality of life and provide high satisfaction without compromising safety.[3]
What Can Facial Rejuvenation Treat?
Discoloration
Crow's Feet
Wrinkles
Age Spots
Sagging Skin
Under Eye Bags & Circles
Fine Lines
Acne Scars
Types of Facial Rejuvenation
Surgical
Non-Surgical
Microneedling

Microneedling is a procedure that involves repeatedly puncturing the skin with tiny needles to activate the body's collagen-producing process. It is also referred to as collagen induction therapy.

Injectable Fillers

Injectable fillers are gels used to "fill" in deep facial creases and lines. They are useful for giving the face added volume and smoother texture.

Botox
Chemical Peels

A chemical peel is a process for improving and smoothing the facial skin where the outer layer is "peeled" off using a unique corrosive solution.

Laser Facial

A laser facial is a laser-assisted facial treatment that can restore, reverse, or rebuild the skin by creating microchannels that promote uniform healing through the production of new collagen.

HydraFacial

A HydraFacial is a specifically branded treatment that utilizes water to clean, exfoliate, extract, and hydrate the face.

Plasma Pen

Plasma Pen treatment is a revolutionary anti-aging treatment that lifts the skin and reduces aging signs by emitting ionized gas or plasma, which charges the air above the skin. A jolt of electricity removes and diminishes skin imperfections. The heat from the electricity vaporizes a tiny section of skin and creates an instant tightening effect.
Benefits of Facial Rejuvenation
Cleaner, More Radiant Complexion
Remove Wrinkles and Fine Lines
Tightens Loose Skin
Removes Appearance of Double-Chin
Reduces Redness and Puffiness
Treats Acne
Increased Confidence
Increased Feelings of Attractiveness
Increased Skin Elasticity
Cleanses the Skin
Improved Social Life
Improved Sex Life
Facial rejuvenation does not prevent the skin from aging, but it can remove years from a patient's appearance by reducing the appearance of the signs of aging. The benefits of facial rejuvenation depend on the patient's skin and the types of treatments chosen. Some procedures have relatively quick recovery times, and others have more extended downtimes.
Candidates
The ideal candidate for facial rejuvenation is a non-smoker who is in good physical health and has realistic goals and expectations for their face and skin. Patients with fine lines, wrinkles, sagging skin, acne scars, uneven skin tone, and blemishes are prime candidates for facial rejuvenation. Anyone at any age can pursue facial rejuvenation treatments.
Personal Consultation
Every treatment process begins with your initial consultation with Dr. Rotemberg. Together, you'll discuss your goals and the desired outcome for your face to determine the best path forward. Click here to book your appointment, or call us at (305) 539-7083, and a member of our staff will help you out.
Preparing For Facial Rejuvenation
In the days leading up to your facial rejuvenation treatments, patients should prepare by keeping the skin moisturized, hydrated, and protected from the sun. You will also want to avoid smoking cigarettes and taking blood-thinning medications like aspirin. Wear loose-fitting clothing you can relax in.
Recovery
After your rejuvenation session, be sure to follow your doctor's instructions. Depending on your treatment, you may experience mild redness, swelling, or irritation. Cool compresses and over-the-counter medications can help. Like before your treatment, take care of your skin by protecting it from the sun and keeping it moisturized. Avoid smoking cigarettes and drinking too much alcohol.
Cost
The costs of your chosen procedures can vary based on your specific goals and expectations. Your consultation with Dr. Rotemberg will provide you with the prices for each treatment.
If you've enjoyed what you've read so far, we recommend you check out the Rotemberg Blog. You'll find a wide range of content like advice, useful information about procedures, testimonials, and unique special interest stories.
FAQ
What Is Facial Rejuvenation?
Facial rejuvenation is any cosmetic surgical or non-surgical procedure aiming to achieve a more aesthetically pleasing face in the patient.  
What Is Collagen & Elastin?
Collagen & elastin are the connective scaffolding that supports our skin. These fibers form a mesh underneath the skin that maintains its elasticity and firmness. Production of collagen & elastin drops off as we age, creating wrinkles and inconsistent tone and skin texture.
What Causes Signs of Aging in the Face?
Causes of facial structural aging include gravity, volume loss, contraction of the mimic muscles, and biological aging of tissues.[5] 
Can I Combine Facial Rejuvenation Treatments?
Yes, it is very common for patients to combine facial rejuvenation treatments for maximum results.
Is There Downtime With Facial Rejuvenation?
This depends on the type of facial rejuvenation treatment. For example, Botox and dermal fillers have minimal downtime, while a laser procedure or a facelift requires more rest time.
If you have a question about a specific facial rejuvenation treatment, we would love for you to reach out to our friendly staff for more information.
References